iCaching - macOS Review
I've been geocaching for a few years now and I've been using Geocaching Swiss Army Knife (GSAK) for the past year. It's a handy program for keeping track of caches that I've found, as well as organising GPX files for import on to my Garmin or phone.
However, the program is Windows only. Which isn't the end of the world, as I have a Windows machine, but I've also got a Mac and it tends to be my main machine for getting work done at home, so it's often on.
As an alternative to GSAK on the Mac, I discovered iCaching.
iCaching is available in the Mac App Store - more information can be found on its website. It is very similar to GSAK and replicates most of the same functionality. It allows you to import pocket queries direct from Gecaching.com as well as GPX files and others. You can also log geocaches direct from the app, including trackables and adding pictures.
Logging
A main use of the software for me is logging geocaches that I've found. I normally use a phone for caching, using either Cachly or Locus Maps but I do also have a Garmin eTrex for when I'm out as well. When I'm doing a number of caches at once, I'll log the caches offline and then upload from the comfort of home. Once I come home, I then either write the caches up on the device if using my phone, but more often will use iCaching or GSAK to write the log and upload them directly from the application.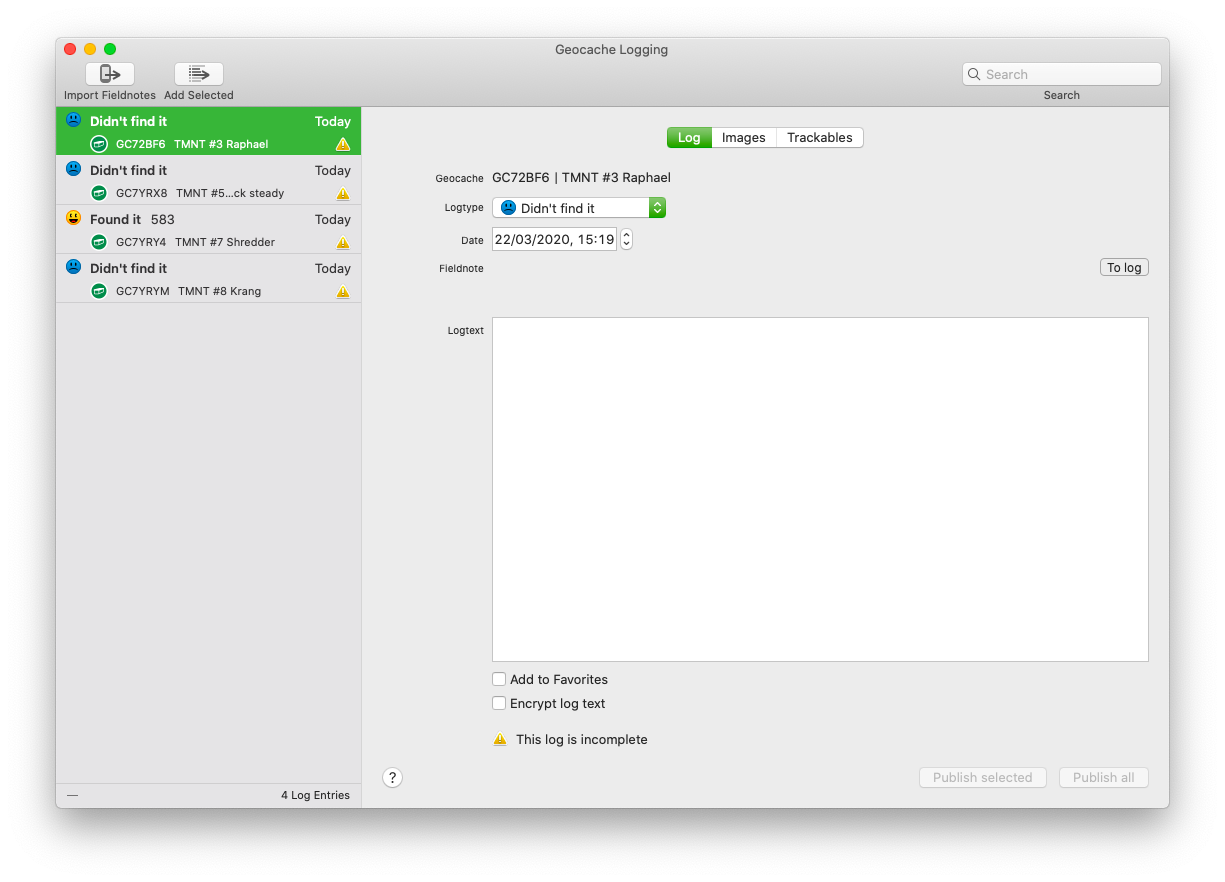 You'd be forgiven as to wonder why the software is needed, as logging can be done online, however, iCaching offers some additional benefits over logging online, primarily, the ability to auto visit trackables for an imported field note file.
In addition, once you add items to your database, you can then easily export them to a GPX file for use in on a GPS or on a phone. You can view all the data on the imported caches within the app.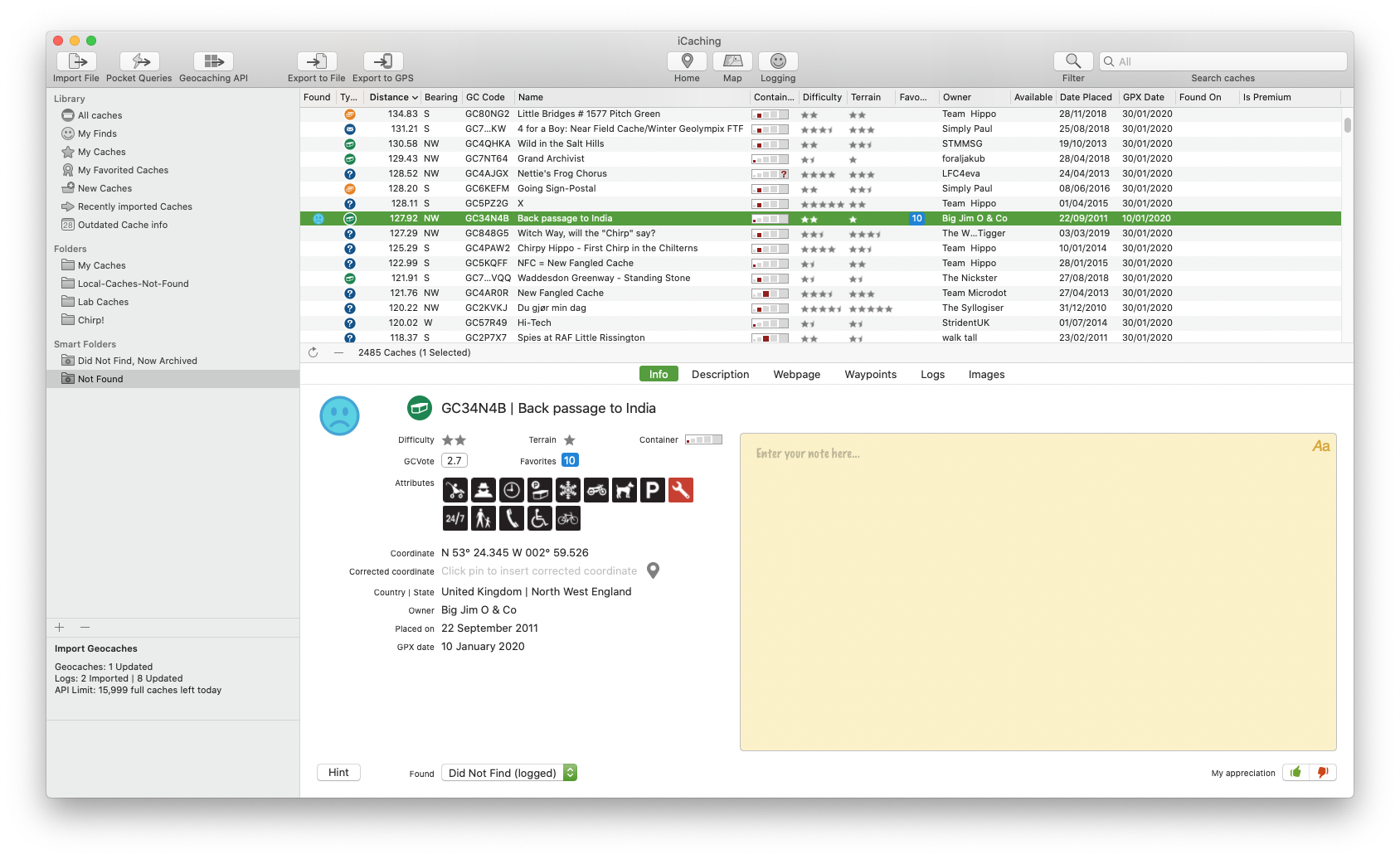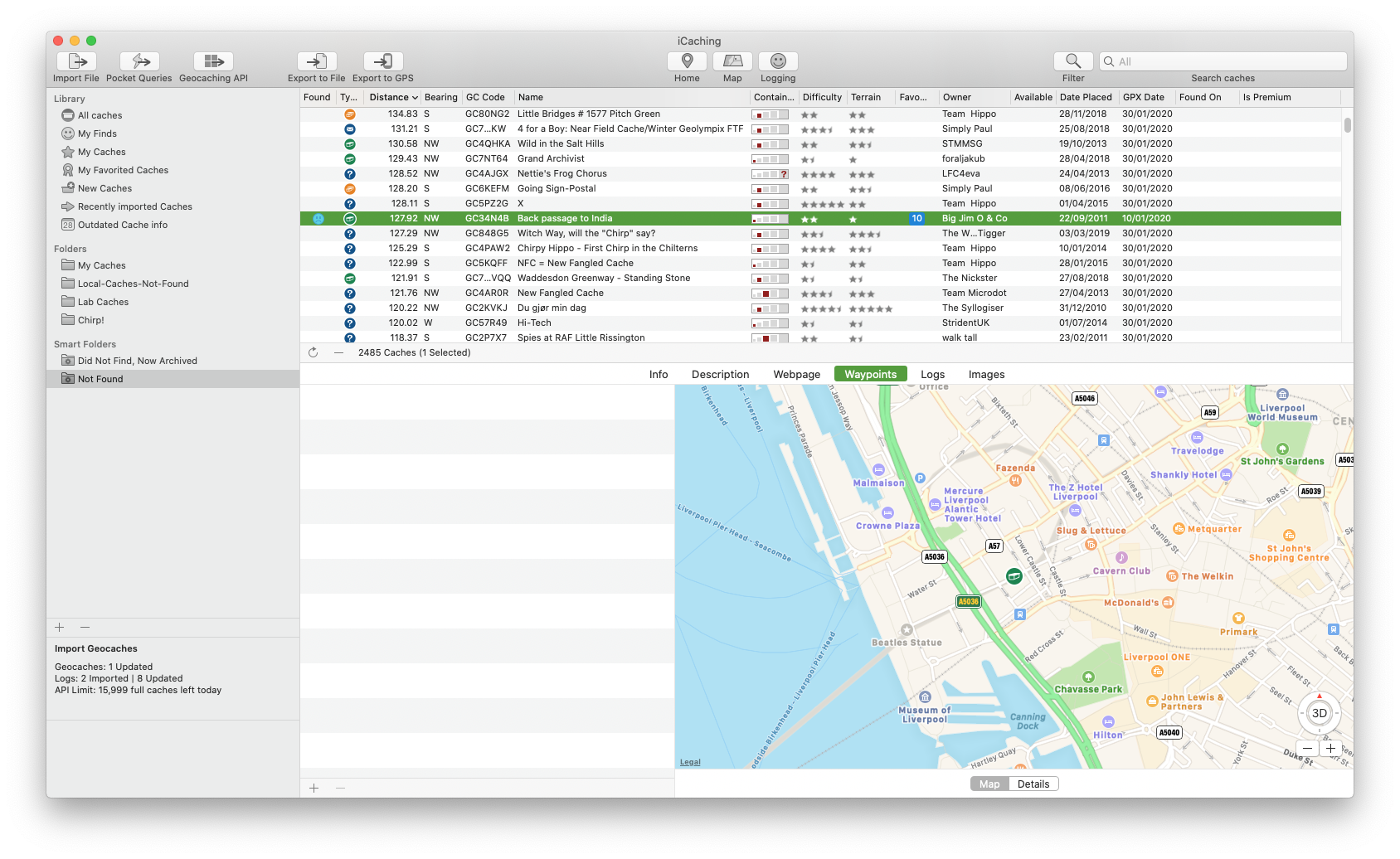 Searches
iCaching has some benefits over GSAK - a stand out feature for me is the ability to run saved searches on the downloaded caches. Whilst GSAK does do searches (they call it filters), iCaching is more straight forward in its searches they can be quite complicated if needed to be.
For example, I have a smart folder created that searches my database for geocaches that have been archived and that I haven't found (but have logged a did not find) - i.e. it's a cache that I'll now never find. This means that I can delete the cache from my list as it's pointless me ever trying to turn the icon into a smiley face!
Maps
One of the nicer benefits over GSAK is that iCaching can display caches on a map.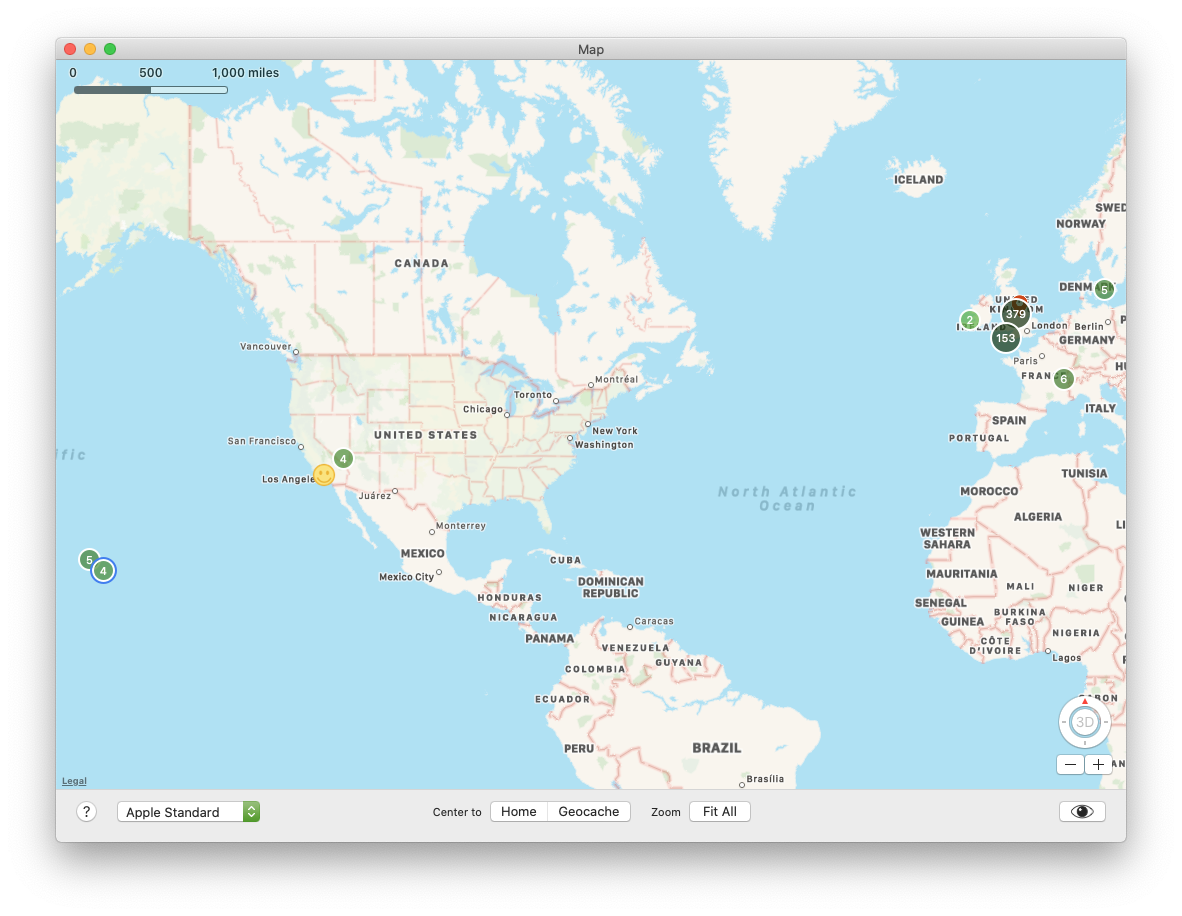 In this way, you can view and browse, similar to that of the Geocaching website. This means that you can make use of the excellent search features in iCaching and then view these on the map - making it more powerful than the inbuilt filters that are available on the geocaching website map.
The mapping function uses the inbuilt Apple Maps function but also allows you to view the maps using OpenStreetMaps and OpenCycleMaps, so you can view the map on the map provider you prefer.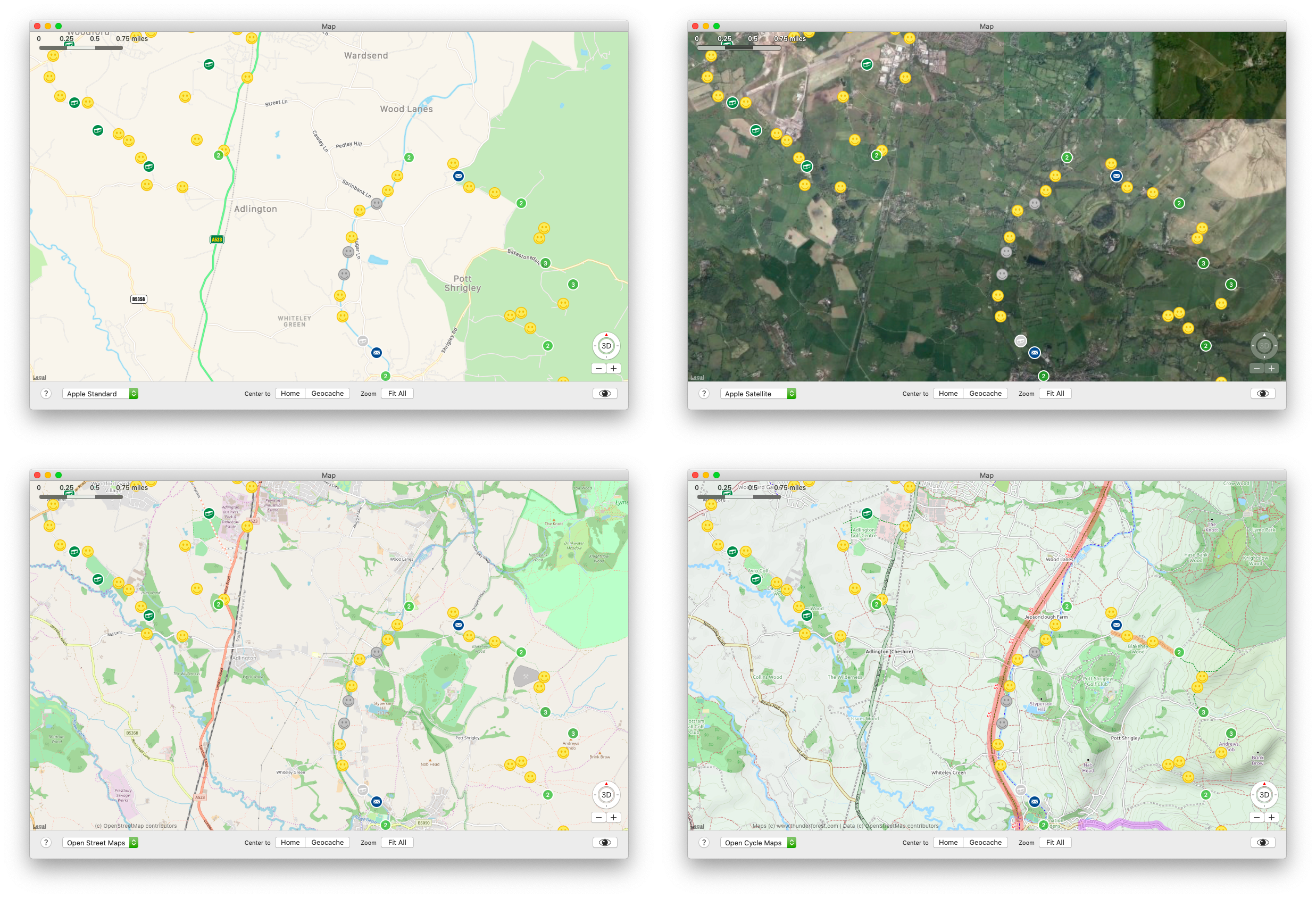 Conclusion
Whilst iCaching isn't perhaps as feature rich as GSAK and lacks the extension features of GSAK, I find that it does all of the features that I need it to do. It is perhaps software that not everyone needs for geocaching and you can very happily go geocaching without it, but for me I find that it fills an additional aspect for me that I could need. It means that I can download and merge GPX files, as well as tracking my found caches nicely.
Overall, I find it a worthwhile tool within my geocaching toolbox and is worth the money I paid for it.