I reaslised that although I've been in London now for about two years (I was offered my job on 12th June 2012 and then started on the 9th July…), I perhaps hadn't done as much exploring as I could have done.
This was backed up by the Brompton Urban Challenge where I got to ride some more roads that I might not have travelled. Likewise, just going on London Brompton club rides has shown me a lot more of London. Sometimes I feel that I don't see enough of it - I come in to Kings Cross every morning and just head up the hill to my office in the new development next to Central St Martins. And then I'll go home again. Now I seem to be cycling to meetings here and there around the city, I seem to be exploring a bit more, but a weekend riding can't hurt!
Having done some of the rides with the LBC and just generally cycling around, I felt that I should do a bit more exploring - more leisurely riding around London. Perhaps inspired by Orange Bromptons Getting Lost in London ride, I thought I should do something similar. After all, London is probably now my adopted home and cycling around it at times, I can feel quite patriotic - have you seen some the buildings and statues? We were world leaders once (and probably still are in some fields!)
Sunday Start
As I was in London this Sunday anyhow, I thought that today seemed the best day to do it. After all, it was sunny and they'd promised rain so I thought I'd make up for the weatherman's mistake.
Didn't seem like it was worth getting started without a trip to Brompton Junction… (I'd technically started at Finsbury Park as the trains weren't running into Kings Cross today so I had a nice ride down Caledonian Road to Kings Cross and then over to Covent Garden but I forgot to set the Garmin up…)
Incidentally, the Junction serves the best treacle tart and cup of tea in London that I've currently found. I have to congratulate Brompton for using British tea from Tregothnan as it's hands down the nicest tea I've ever had (and disappointedly, the tea bags can't quite get the same taste as the loose leaf that they serve in the Junction as I've bought some for work!)
The aim of the trip into London today was to pick up some Proofide for the new Brooks saddle. Without the Junction having it (though they have just started stocking the Cambium saddles, I headed over to the Brooks store and picked some up and got going.
As I was near to Trafalgar Square, I thought I would go and get few pictures there and then head up the Mall to Buckingham Palace. I neglected to get the camera out in Trafalgar Square but it was Turkish Day and there was a big concert on. As it was packed, I moved on.
The Mall was closed so I was able to get a reasonable picture of Admiralty Arch.
I'm not sure what was on to close the Mall but it meant I could get some decent pictures from the middle of the road.
Nice to see so many Union Jacks out!
The whole area was closed off so I cycled up Constitution Hill to Wellington Arch.
The plan was to then cycle around Hyde Park. However, my plans were scuppered by the fact that all the roads were closed for an event - it turns out that this was a triathlon.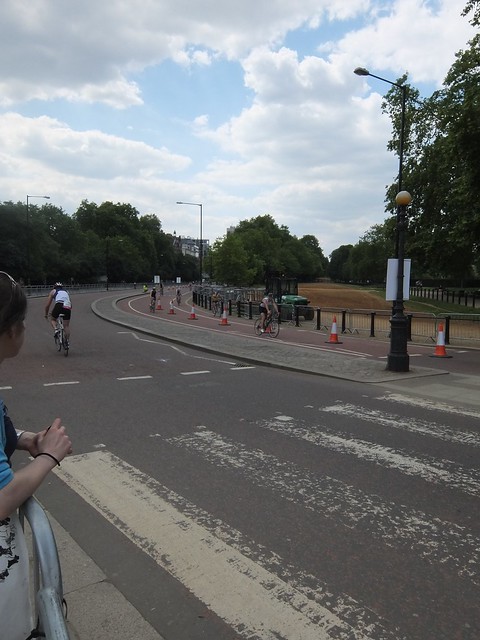 Unable to continue through the park, I headed back the way I came.
Reaching the palace, the building in the distance caught my eye. I've no idea what it is but it just looks a bit surreal and out of place. Is it the DWP building? Or Scotland Yard? Those seem to be in that direction. Looks like a bunker floating above the tree tops.
I then proceeded back down the Mall, and down towards the Houses of Parliament. One think I will have to do this year is attend Remembrance Sunday. I think it every time I pass the Cenotaph.
Out and down onto the Embankment to head towards the city - I cycled past a Battle of Britain memorial I had no idea was there so I doubled back. It makes sense as that's opposite the Ministry of Defence.
I was a cadet for many years and almost joined the RAF and I'm still interested in the RAF. The Battle of Britain is considered the high point of the RAF understandably with some people saying that it's the reason that we were never invaded. Regardless, scenes such as the one below still resonate with me.
The list of names was short - I think to see my ancestor who was lost, I need to go to the memorial at Capel-le-Ferne. Perhaps one to visit later this year.
I continued down Embankment and almost missed this little statue, again, which I had no idea was here. Brunel is probably one of the greatest civil engineers and he has no doubt influenced my trade (a relatively new branch of engineering but stems from civil and building servicing engineering).
I tried to get a picture of two masters of engineering, however, my photography skills are fairly poor still. Mind, with the lighting, I'm not sure I could do better (photography experts opinions on how I could have done better or if I can rescue it with the RAW image?)
Moving on, I ended up in the city. Where I didn't get nearly as many images as I wanted.
However, I'm quite happy with these two of St Pauls.
Was meant to get one of the Bank of England and the Royal Exchange but carried on and then ended up heading towards Liverpool St with a quick picture of the Cheese Grater.
With a few places in London, I'll be coming in again to explore more. Perhaps start more over in the West next time as I've not been out that way to much - I think that the I've been out in Chelsea way and down to Richmond, but never North, such as Uxbridge and the like.
A quick drink at Kings Cross and then I decided to cycle back to Hatfield to top up the miles for the day. I fancied the challenge of Archway Hill on the Brompton. And now having done some of the hills with the LBC, I'm not sure Archway Hills much of a challenge anymore! I managed to get up it in third gear with an average speed of 19.2Km/h so I was slightly impressed. Mind, didn't seem to be a Strava personal record, so maybe not as good as I thought (seems to be my 5th best time)!
Overall, was a nice ride and I'll be needing to do something similar again. And now I know I can commute occasionally from Hatfield to London…